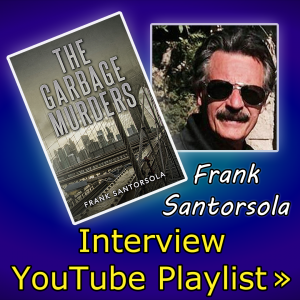 Frank Miranda grew up in a strict, old world Italian home, born of immigrant parents, with lots of relatives around and one younger brother. As a child, he mischievously pushed boundaries- he got a thrill out of living on the edge, which made the life of a police officer an easy choice for his career.  As a cop, he could continue to push boundaries professionally, but it took a sad toll on him personally. When he went undercover, Frankie Miranda lost everything he held dear: his wife and his children and sometimes, even his self-respect.
His Italian heritage made Frank a natural for undercover work.  He infiltrated the crew of one of the five organized crime families in New York. The Garbage Murders is the second book in the Miranda Writes series; a fact-based fiction story, describing Frank's life after being assigned by the newly-appointed District Attorney to investigate organized crime related homicides.
The murders were taking place in the private sanitation business in Westchester County New York. And of course, Frank has never driven a 13- ton garbage truck but gets fast, "on the job" training after being hired by the owners of C& C carting. Frank drives the truck with long-time garbage man and his sidekick, Nutsey Fuganza. After riding with Miranda for a few days, Nutsey says "Frankie, so far the only thing you haven't hit with the garbage truck is a human being."
The homicide investigations take Frank into the secret worlds of the mafia and private sanitation. He saw first-hand the mob's ability to kill for greed, their money laundering and their single-minded hatred for cops.  The reader gets an inside look at what Miranda feels and thinks as he focuses on solving the murders, all the while fearing for his life if he was exposed as a cop. This is a story of crime and passion, told by an undercover cop whose perilous work inside the mob brought justice to the victims and their families by solving the murders.